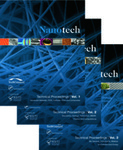 Department
Electronics & Communications Engineering Department
Description
A hybrid power management unit was developed to interface photovoltaic energy to loads, and meeting its challenges such as variation of power, unregulated voltage and limited power, the unit implements a Maximum Power Point Tracking (MPPT) to maximize the output power under environmental variations. The power management system proposed applies photovoltaic harvested energy effectively to mobile devices. It mainly consists of an MPPT block and a Power Distribution Control Unit (PDCU). Different cases of operation exist depending on the availability of power, load needs, and battery state of charge. Analysis and simulation results are provided to demonstrate system functionality and sensitivity.
Publication Date
1-1-2014
Document Type
Book Chapter
Book Title
Technical Proceedings of the 2014 NSTI Nanotechnology Conference and Expo, NSTI-Nanotech 2014
ISBN
SCOPUS_ID:84907417300
City
Washington, D.C., U.S.A.
Keywords
Battery charging, Energy harvesting, Mobile platforms, MPPT, Photovoltaic, Power management unit
Recommended Citation
APA Citation
Abdelmoaty, A. Helmy, A. & Ismail, Y. (2014).Development of a hybrid solar power management unit for mobile platforms. CRC Press. , 135-138
https://fount.aucegypt.edu/faculty_book_chapters/494
MLA Citation
Abdelmoaty, Ahmed A., et al. Development of a hybrid solar power management unit for mobile platforms. CRC Press, 2014.pp. 135-138
https://fount.aucegypt.edu/faculty_book_chapters/494