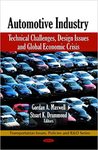 Chapter Title
Quantitative analysis of materials substitution in motorcars: How can light and advanced materials help the industry meet its challenges?
Department
Mechanical Engineering Department
Description
The automotive industry, more than ever before, is faced with great technical and economic challenges. The new generations of cars are expected to comply with increasing restrictions on emission, lower energy usage over the lifecycle of the car, and higher requirements for recoverability and recyclability of components. Research has shown that reducing the weight of the motorcar and selecting appropriate materials are among the most important factors that can be used to meet these challenges. It is known that about 85% of the total lifecycle energy consumption occurs during the operation phase of the motorcar and this is directly related to its weight of the car, especially in city driving. In electric and hybrid cars, the size and the distance travelled between consecutive battery charges are also related to the weight of the car. Weight reduction can be achieved by using high performance structures as well as lightweight and advanced materials in the design and manufacture of the motorcar frame, engine, chassis and components. For example, aluminum die castings and extrusions can be used for making the space frame, magnesium castings for engine blocks and instrument panels, fiber reinforced plastics for exterior and internal panels, metal matrix composites for engine components, and power metallurgy and thermal spray coating processes for transmission and engine parts. The light and advanced materials and the processes used for their manufacture are relatively more expensive than their traditional counterparts and are expected to increase the purchase price of the motorcar. However, the economic balance may considerably change if the lifecycle costs are considered. In addition to technical and cost considerations, safety, aesthetic and comfort issues need to be considered in materials substitution for the motorcar. This chapter discusses the different types of new materials and manufacturing processes that can be used to substitute current materials in modern motorcars to enable them to meet the technical and economic challenges that the automotive industry is now facing. A case study is presented to illustrate how quantitative methods can be used in materials substitution. Two methods (Performance/Cost Analysis and the Analytic Hierarchy Process) are introduced and used to reach rational decisions on optimum materials for interior body panels. Natural fiber reinforced plastics are shown to be the optimum materials for economy models and wood is shown to be optimum for luxury models. © 2010 Nova Science Publishers, Inc. All rights reserved.
Publication Date
1-1-2011
Document Type
Book Chapter
Book Title
Automotive Industry: Technical Challenges, Design Issues and Global Economic Crisis
Editors
Stuart K Drummond; Gordan A Maxwell
Publisher
Nova Science Publishers
Recommended Citation
APA Citation
Farag, M. M. (2011).Quantitative analysis of materials substitution in motorcars: How can light and advanced materials help the industry meet its challenges?. Nova Science Publishers. , 173-190
https://fount.aucegypt.edu/faculty_book_chapters/46
MLA Citation
Farag, Mahmoud M. Quantitative analysis of materials substitution in motorcars: How can light and advanced materials help the industry meet its challenges?. Nova Science Publishers, 2011.pp. 173-190
https://fount.aucegypt.edu/faculty_book_chapters/46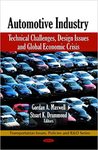 COinS